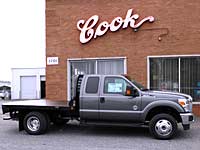 GOOSE BODY: Blue Ridge Mfg Rodeo Goose Body RD 9.5D, mounted on F350. Radius Tube Bulkhead with unobstructed rear window, 30000# Goose Neck Hitch, Asphalt undercoating of body, recessed lights and tag well, all included. Body floor made of steel or aluminum.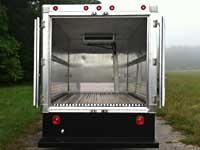 Interior of Custom Refrigerated Body:
TWO (2) PANEL FULL OPEN SWING DOORS. FLOOR: EXTRUDED ALUMINUM "HAT" FLOOR - 2 DRAINS AND KAZOOS. SCUFF: ALUMINUM TREADPLATE 1/8" X 12" SIDES,FRONT. LINING: ONE PIECE .040 ALUMINUM. CARGO CONTROL: ONE (1) ROW OF E TRACK, SIDES ONLY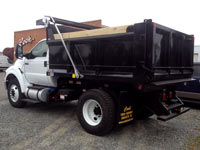 CONTRACTOR DUMP: Blue Ridge Mfg Load-Pro Contractor Dump, available in 8' - 16' lengths. Integrated cab guard, recessed lights, and 3/16" steel floor standard. Popular options are drop-down sides, boxed top rails, and tarp systems. This truckl includes a Venco Hoist, Electric Tarp, mounted on 2015 Ford F750; #600146.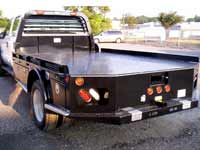 F450 CC 4x4, Blue Ridge Super Hauler 9.5' DRW; 96" Width. Trailer Plugs(2), Receiver Hitch, Goose neck hitch compartment w/ball.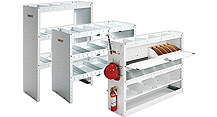 WeatherGuard Van Shelving

and Interiors, custom designed for all vehicles.
Ladder Racks and partitions are also available.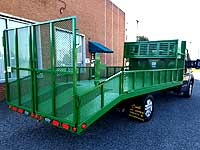 Blue Ridge Grass Pro Landscape Body.
With options of: water cooler holder, cone holder, tool rack holder & Green in Color, Black is standard